Ductless Air Conditioning and Mini Splits vs. Central Air Conditioners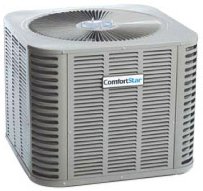 A new air conditioning system is a significant investment, so it's important that you as a homeowner has the information required to select the ideal system for your needs. Our HVAC system team in New Jersey shares some important factors to consider to help narrow down your options.
If you have existing ductwork or not: Installing or removing ductwork is a big project, so it usually makes sense for homeowners to choose central air conditioner systems if it's already installed in your home. If you don't have ductwork, this means that central air conditioner prices will be very high for your home – not to mention the mess and inconvenience of the installation process.
The size of your home: The bigger your home is, the more powerful your air conditioning system needs to be. The general rule is that central air is the most energy-efficient and the most affordable option if you want to cool a home that is larger than 2,000 square feet. If you only want to cool selected areas or your home is smaller than 2,000 square feet, you can usually consider ductless options.
The aesthetics of your home: If your home's style is very important to you, then this can be a deal-breaker when selecting an air conditioning system. Central air conditioning systems aren't visible at all inside a home, but ductless systems require ceiling vents or internal wall units.
Your budget: This is one of the most important factors to consider. Generally speaking, ductless air conditioning units are likely to cost a couple of thousand dollars per unit (keeping in mind that you will likely need more than one unit unless you only want cooling in a single room). Central air systems are usually more expensive, especially if you don't already have ducting in place, and the bigger your home, the more expensive they get.
Get Wholesale Ductless Air Conditioning and Central Air Conditioning Prices in NJ
Need a new HVAC system in New Jersey? At Crosstown Plumbing Supply, we have a wide range of high-efficiency central air systems, condensers, dehumidifiers and ductless air conditioning systems that offer exceptional temperature control and air quality while using minimal energy. As wholesalers, we offer clients leading brands at the best central air conditioner prices. We can also put you in touch with reputable local companies specializing in air conditioner installation and servicing.
For more information on our air conditioning and HVAC solutions, as well as to have any of your cooling system air questions answered, please contact us today or visit our website athttp://crosstownplumbing.com/