Residential Gas Furnace Supplier for New Jersey
When it comes to furnaces, size matters…
A furnace that's too small won't keep your house warm when it gets really cold, or will leave the rooms furthest away constantly feeling cold. Partly to avoid this, the furnaces in most homes are larger than necessary. A furnace that's too large will cycle on and off more frequently. That puts more wear on components, wastes energy, and might cause the temperature to vary uncomfortably. Also, a larger replacement furnace might require larger ducts. Without the right size ducts, airflow can be noisy.
Efficiency Matters too
Gas is currently the most common heating fuel and most new central-heating systems use gas. How efficiently a furnace converts gas into heating energy is reflected in its annual fuel-utilization-efficiency (AFUE) rating, which is measured as a percentage. The higher the number, the more heat the furnace can wring from each therm of gas. Since efficient furnaces generate fewer emissions, environmental considerations might also influence your decision.
Gas Furnaces have become much more energy efficient over the years. A gas furnace made in the 1970s typically has an AFUE of about 65 percent. The lowest efficiency allowed by law for new gas furnaces is 78 percent, and some new models achieve 97 percent: near-total efficiency!
One of the best examples of this new breed of Gas furnaces is the model 95AF from the company Aire-Flow.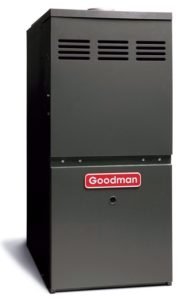 These units are among the most advanced available today. Some of their features include:
Up to 95% efficient, and fully Energy-Star qualified. May be eligible for rebates and/or utility credits.
From 45,000 to 135,000 BTU heating size range.
Multi-speed blower for best alignment to operating conditions
Designed for integration with external Air filtration systems and humidification systems.
Crosstown Plumbing has a full line of Furnaces and Forced Hot Air heating system accessories for every conceivable installation and budget. If your furnace has not been updated or replaced in the last 10 years, you owe it to yourself to look at the latest high efficiency gas fired models. These units not only lower your heating bills, but allow the integration of modern air filtration or humidification systems that dramatically increase the comfort level inside your home.
Crosstown's Heating Specialists are committed to helping you find the right solution for your home, apartment, or business. We spend the time with you that others can't or won't.
Call us at 800.709.6830 to experience the Crosstown difference.