DUCTLESS MINI-SPLITS – A BETTER AIR CONDITIONER
So what's a "Mini-split" Anyway?
Mini-split (or ductless) technology was originally developed as a means of providing Japan's growing population with a highly efficient way to cool their homes and businesses. They were designed to fit into spaces that could not otherwise have been effectively cooled by in wall air-conditioning units due to the close proximity of Japan's buildings, plus they needed a system that was extremely quiet.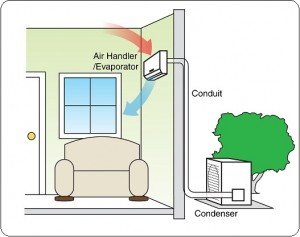 The term ductless means simply that no ductwork is involved. In just about any application where you would consider a traditional window mounted air conditioner, a mini-split is a far superior choice. The system is comprised of two units: a small outdoor condenser, and a wall mounted, indoor air handler. The condenser supplies coolant to the air handler through refrigerant lines that run through a small opening in the wall or ceiling and into the back of the unit. The air handler takes in supply air from the room through the front grill and dispenses the newly-cooled air back into the room. For certain models special filters are available that promote added humidity control and filtration.
There are a number of reasons why a mini-split ends up being a far superior solution to bulky in-window air conditioning units:
You don't lose a window to an air conditioner! No unsightly lump sticking out the side of your house
The units are deathly quiet compared to most air conditioners, while cooling more air than air conditioners of the same size. Typically one unit is sufficient to cool multiple rooms or an entire apartment.
No seasonal removal or maintenance required. You never have to worry about taking these units down in the winter because it is permanently mounted inside and no cold air from the outside can possibly blow in!
The efficiency of these units is typically much higher than that of air conditioners, cooling your room for far less money each month.
The condenser can be placed anywhere outside, on the ground, on the roof, on the balcony. Lending itself to almost any installation requirements.
The refrigerants used are newer, more ecologically friendly coolants.
Installation is simple and extremely flexible depending on space requirements. Easy for the do-it-yourselfer.
Crosstown Plumbing Supply carries some of the most cost effective Mini-Split Technology available today, from quality, reputable manufacturers.
Call us at 973.677.1717 for a personal consultation on whether a mini-split solution is right for your application.