HOT WATER HEATERS, RESIDENTIAL AND COMMERCIAL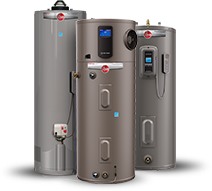 Crosstown Plumbing carries an extensive line that includes most major manufacturers of Residential and Commercial hot water heater systems. Many of these are in stock and available for immediate pickup or delivery.
One of the most popular brands of tank based water heaters is Rheem. Known for their reliability and ease of servicing, Rheem water heaters come in a wide variety of sizes to suite any size dwelling including commercial properties.
Tankless Water Heaters
Tankless systems provide on-demand hot water and high-efficiency for applications that desire a compact space saving design. Operating costs are typically much lower than traditional tank based systems and can provide flow rates suitable for both residential and commercial applications. Indoor and outdoor models are available.
Hybrid Electric – High efficiency.
Hybrid electric systems use heat pump technology to achieve efficiencies that can literally cut your water heating bill in half. The systems are perfect for apartments or small homes and are designed to be both ECO friendly while providing plenty of hot water instantly when you need it. Recovery rates are fast and installation is easy for the do it yourselfer. Systems typically come in 40 or 50 gallon capacities and are designed to easily replace existing tank systems in a smaller footprint. These systems are a popular choice for builders and apartment complex managers looking to upgrade or replace their tank based systems while saving money.
Crosstown Plumbing has a wide selection of hot water heaters including Rheem and others all available for immediate on site delivery. Call Crosstown today for the absolute best NJ prices on Hot Water Heaters.