AIR CONDITIONERS – CENTRAL AIR SYSTEMS, DUCTLESS AIR CONDITIONERS, CONDENSERS

Crosstown plumbing carries a full line of cost effective air conditioning solutions for your home or business. These cooling systems can be standalone or more commonly, integrated into your existing heating system. Many of these products represent the "State-of-the-art" in ecologically smart air conditioner solutions that are designed to save you money and fit seamlessly into any existing heating application you have.
Types of solutions we sell include Ductless Mini-Splits (wall air conditioning), Central Air Systems, Dehumidifiers, Humidifiers, Air Filtration systems, and Air handlers. We do not sell in-window air conditioning units, if you are considering that we urge you to look at our "Ductless Mini-Splits", an in wall solution that is far superior in every way to window/room based units.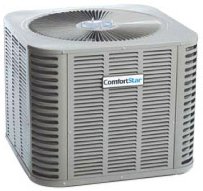 In the area of condensers, one of our best selling products continues to be the Comfort Star MHH Series. These High Efficiency Condensing Units utilize state-of-the-art technology which provides optimum cooling with long lasting reliability. They set a new standard for excellence in comfort when installed in single, multi-family and light commercial applications.
MHH Series contains R410a, a chlorine-free refrigerant, in accordance with the EPA's newest environmental guidelines. It increases system efficiency and has zero ozone depletion potential.
High and low pressure controls are standard on all MHH models to protect the compressor from refrigerant undercharge or overcharge.Crankcase heater is standard on all MHH models to minimize refrigeration migration, and helps eliminate any start up noise or bearing "wash out" during cold weather. These models also offer one of the most outstanding manufacturer's limited warranty's in the industry for added protection. Details are available on the manufacturer's web site.
How The Central Cooling System Works
Central Cooling air units are split systems: an outdoor unit, also called the condensing unit and an indoor unit, also called the air handler. The function of a central cooling air unit is to transport heat from one station to another. The vehicle your system uses to carry the heat is called a refrigerant, commonly referred to as Freon.<
The compressor in your outdoor unit changes the refrigerant or Freon into a high temperature, high pressure gas. As that gas flows through the outdoor coil, it loses heat and condenses into a high temperature, high pressure liquid. This liquid refrigerant goes through copper tubing into the evaporator coil. There the refrigerant expands. Its sudden expansion turns the refrigerant into a low temperature and low pressure gas. This gas then soaks up heat from the air circulating in the duct work. The cooled down air is then distributed back through your house. In the meantime, the heat that was absorbed by the refrigerant is transported back outside through copper tubing and released into the outside air.
Dirty coils and improper refrigerant levels can cause your system to cool less efficiently than it should. An inefficient cooling system means higher energy bills. It also forces your compressor to work harder than is necessary and can actually shorten the life span of your cooling unit. Having an annual cooling system tune-up by a licensed technician would include an inspection of the coils and the checking of your refrigerant charge, to insure that your cooling system is running efficiently.
Call us now at (973) 677-1717 for prompt, professional assistance with all your cooling system questions.