Commercial Boiler Dealer for Northern and Central New Jersey
If you own or manage a commercial building in New Jersey, Crosstown may be the best partner you will find for purchase of  commercial boilers, replacement boilers, boiler parts, and general boiler valves and controls. We stock Cast Iron Boilers, Steel Boilers, Staging Boilers, Replacement Boilers, High efficiency boilers and commercial Hot Water Heaters and Steam boilers, from all major manufacturers.
Apartment complex managers, building management companies and HVAC contractors can partner with Crosstown to receive improved pricing and purchase incentives on a wide variety of boiler systems. Become a Crosstown Professional today.
Crosstown carries commercial boiler systems from major manufacturers including: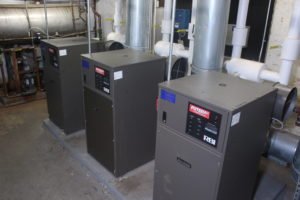 RBI
Crown
Weil-McLane
Peerless
Laars
Lochinvar
Smith
and more. Some of these models are in-stock for same day pickup or delivery.
Why Crosstown for Commercial Boiler Sales?
Heating systems in commercial properties cannot suffer downtime for any reason. When they do, people, processes, and potentially your business are adversely affected. You need to get these situations handled, handled quickly, and at minimum impact to you, your clients or tenants, and your wallet.
Because we've focused heavily on commercial clients for 30 years, our business is able to ship many commercial boilers and parts to your job-site overnight. That coupled with our real world expertise in the manufacture, installation, and design of boilers, can help us steer even seasoned professionals to the most cost effective solution to their heating challenge.
Commercial Boiler Heating Controls
Crosstown carries the Tekmar line of heating control systems for commercial boiler optimization. A tekmar control system adds value to any building by improving the efficiency and durability of the HVAC system while increasing the comfort and quality of indoor living.
For more information on Tekmar Controls see our Controls page.