Enhance your home office with a high-efficiency air conditioning system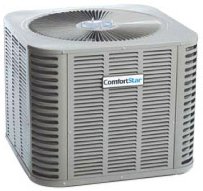 Home offices are a great asset, but they do need all the essentials if they're going to become a productive space. High-efficiency air conditioning systems help to create an environment that helps boost productivity, without significantly impacting your energy bill. Here's how:
Reduced humidity: That sticky, airless feeling you get outdoors in the summer? That's humidity – and it doesn't make you want to do anything more than lie down with a cold drink somewhere in the shade. Most air conditioners have a dehumidification setting that takes this excess moisture out of the air without making your space too cold, which helps you stay productive even on the most humid days.
Comfort: The great thing about home offices is that you can set your climate to a temperature and moisture level that suits you, and change it as the season's progress. You can also set it to kick in before your work day starts and automatically shut off for the evening, keeping your energy bills down.
Silent and efficient: With the right air conditioning system, you should be almost unaware that it's even there. Modern units are incredibly quiet and unobtrusive, and they use very little electricity to get you great results. With high-efficiency machines, you may also qualify for state rebates in addition to lowering your energy bill.
A better environment: An open window may seem like an effortless solution, but it comes with its own set of issues. From insects and dust flying in, to traffic noise, rain and gusts of wind that blow all your papers off your desk, windows can often cause more issues than they solve. Air conditioners have none of these issues, and with silent, unobtrusive machines on the market with state-of-the-art filters, you'll have a cleaner, quieter and less chaotic space.
Heat: Many air conditioning systems come with a heat pump feature that allows you to increase the temperature in the colder months, ensuring that your space stays climate controlled regardless of the weather outside.
Affordable, high-efficiency air conditioner installation in New Jersey 
At Crosstown Plumbing Supply, we can either assist you with choosing a high-efficiency, low maintenance replacement air conditioner or HVAC system (including central heating and air and ductless air conditioning systems). As we are a wholesaler located in a 3.5% NJ sales tax zone, we can make your repairs and services the most affordable in town. Our sales consultants are highly experienced and happy to assist you with finding the right part for your needs and we work closely with reliable, affordable air conditioning and HVAC professionals you prefer not to go the DIY route.
For more information about the plumbing supplies we have on offer, please visit our website today at http://crosstownplumbing.com/