Plumbing wholesalers have you covered in 2017!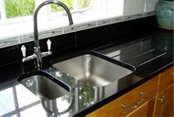 At Crosstown Plumbing Supply, we're wishing all our valued clients a happy New Year! In 2017, you can look forward to the same great customer service and a full range of high quality parts, plumbing supplies and products that will make your home or business remodels and repairs easier and even more affordable. Here are just some of the products and services we're offering this year:
Wholesale kitchen and bathroom cabinets, countertops and fixtures: Whether you're remodeling your kitchen or bathroom to sell your home or to enhance your lifestyle, plumbing wholesalers are the place to go. We help you cut out the middleman, so you can get the same High Street cabinets, faucets, sinks and countertops without paying High Street prices.
Boilers, water heaters and heating systems: New Jersey winters can chill you to the bone, so you home or company's heating system needs to be up to the task. With us, you'll find all the repair parts you need – and if you're thinking of upgrading, we can help you choose from a full range of branded, high-efficiency options that will help you save on your energy bill.
Plumbing supplies: If you're a homeowner who enjoys DIY or a professional needing a reputable supplier, we can assist you. With our wholesale prices and extensive range, you'll find the parts and tools you need without breaking the bank.
Air-conditioning systems: Keep cool in the summer with a little help from our HVAC department. We can supply you with everything you need, from parts and advice to full systems using cutting-edge high-efficiency technology.
Advice, parts and plumbing supplies from New Jersey's wholesale plumbing specialists 
For over the last 25 years, Crosstown Plumbing Supply has been offering expert advice, tools and products to homeowners and industry professionals alike. With a reputation for customer service excellence and a team willing to go the extra mile, we're the ideal partners for all your plumbing needs in 2017. What's more, our customers benefit from our location in a 3.5% sales tax zone – making us the most affordable choice by far!
To find out more about our products and services, please visit our website at https://www.crosstownplumbing.com/ or contact us today.