Spring clean your air conditioner today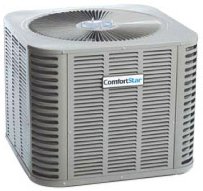 Spring is here and soon we'll all be cranking up our air conditioning systems to beat the heat of the summer – which means now is the perfect time to have your air conditioner serviced and cleaned out. Not only will you beat the rush, you also won't have to break out a sweat!
Common signs that your air conditioning system needs servicing
It won't turn on: This could be down to anything from it needing simple repairs to needing complete replacement, but don't rush out and buy new just yet. First, check the power connections and fuses. If they are in good working order, contact an air conditioning repair service for some practical expertise.
The circuit breaker trips: There could be an electrical issue inside the unit that causes this to happen or it could be that your home electrical system isn't handling the power surge. Whatever the reason, professional assistance will be the fastest, safest and most affordable route to take.
It's noisy: Modern air conditioners are very quiet, so if yours is making a noise – or more noise than usual – it's time to call out for some professional help. Be sure not to use the machine until a repair service has checked it out, as it could make the problem worse.
Your energy bill is climbing: Air conditioners that don't get regularly serviced loose their energy efficiency – costing you some serious money. With an affordable annual service, your machine will be back up and running without blowing your budget.
Parts, advice and new AC systems at Crosstown Plumbing Supply 
Repairing your air conditioning unit can be expensive, but you can make it more affordable by speaking to the specialists at Crosstown Plumbing Supply.
As wholesalers, we have high quality parts at budget-friendly prices and, because of our strong connections to the plumbing community, we can help you find a reputable company to service your air conditioning unit or assist with air conditioner installation. If you'd like to replace your central or ductless air conditioning unit, come and speak to our sales specialists about energy efficient, lasting solutions.
With our affordable wholesale prices, reliable contacts in the heating and cooling systems industry and prime location in a in a 3.5% NJ sales tax zone, you are guaranteed to get the best deal at the best price. For more information on our air conditioning systems, please visit our website at http://crosstownplumbing.com/ today.