Tips for Hiring a Great Plumber for Your Home Improvement Project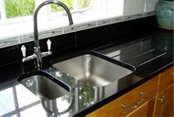 Home improvements and remodeling are costly projects for homeowners and keeping within a budget is a priority. When hiring contractors, it's often more expensive to hire the cheapest option as you likely have to spend even more correcting mistakes. This makes it essential to hire the right person when you need professional help. Here are some great hiring tips for when you need a plumber.
Only hire licensed plumbers: Always ensure that your plumber is licensed to do the work you need done in the state where you're living. You can ask the contractor directly, but it's also a good idea to do a quick search online for their credentials.
Get word-of-mouth recommendations: If a contractor sounds great to you, ask to speak to previous clients to see what they had to say about the work they had done on their properties. Alternatively, speak to a local plumbing supply company for recommendations, as they'll have a network of contacts in the area.
Get multiple estimates: You don't have to go crazy here, but it's important to get at least 3 estimates for the work you need done. Unless you're in the industry, chances are that you don't have a good idea of what the work should cost – this will give you a much better idea of how to budget for the work and who offers the most reasonable rates.
Ask about guarantees: Your plumber should be bonded and insured within the state where the work is being done, as this protects you in the event of the work not being completed for any reason. Your contractor's work and the materials used should also come with a reasonable guarantee in the event of any issues down the line. A lack of warranty could be an indicator that they use poor quality materials or don't have confidence in the quality of their work.
Visit Plumbing Wholesalers in New Jersey for All Your Supplies and Tools 
Crosstown Plumbing Supply is a wholesaler in a 3.5% sales tax zone, so we can make your repairs, remodeling and services the most affordable in town. Our sales consultants are highly experienced and happy to assist you with finding the right parts for your plumbing project and we work closely with reliable, affordable plumbing professionals we are happy to recommend to our clients.
To find out more about our products, please contact us or visit our website at http://crosstownplumbing.com/ today.