Upgrade your Kitchen with Crosstown Plumbing!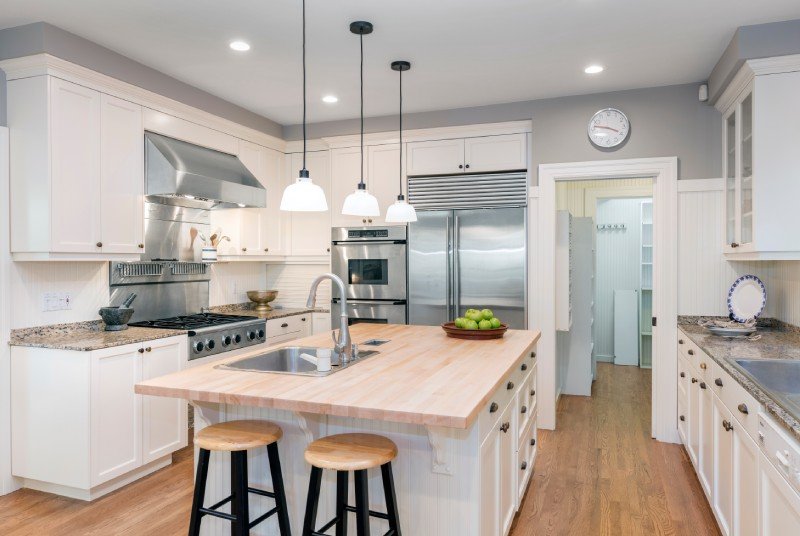 Crosstown Plumbing is the ideal partner for providing your customers with top-of-the-line kitchen upgrades. As a plumbing supply company with a great reputation in the area, we recognize the value of delivering results that exceed your clients' expectations. With our extensive selection of premium kitchen cabinets and plumbing fixture options, you can improve your craftsmanship and provide your clients with stunning kitchen makeovers that will "wow" their guests. In this article, our team will go over some tips for kitchen remodeling that will help make this process as smooth as possible. 
When to Update Your Kitchen 
Knowing when a client should renovate their kitchen is vital for you as a professional plumber. Offering to rebuild their kitchen can improve performance and appearance, whether they have old cabinets, ineffective appliances, or want a new design altogether. Crosstown Plumbing can assist by supplying you with the solution your client needs, directing you through the procedure at each stage to ensure their  kitchen makeover is successful.
Advice for Kitchen Renovations
Planning carefully and paying attention to every detail is essential when starting a kitchen renovation project. Keeping the following renovation advice in mind will help you assure client satisfaction:
Determine the needs of your clients: Before starting the renovation process, be aware of the objectives, tastes, and financial constraints.

Enhance the functioning of the kitchen by designing a plan that prioritizes effectiveness and facilitates smooth movement.

Choose quality materials: To ensure lifespan and customer pleasure, suggest using quality materials for flooring, appliances, countertops, and cabinetry.

Work with experts: For insightful analysis and professional recommendations for your clients' needs, speak with our Crosstown Plumbing kitchen remodeling specialists.
Kitchen Cabinets by Crosstown Plumbing
At Crosstown Plumbing, we take pride in providing a wide range of premium kitchen cabinets created to fulfill the requirements of skilled plumbers like you. With our vast inventory's wide range of styles, finishes, and sizes, you can create solutions tailored to each client. You can improve any kitchen's overall look and utility with our sturdy and aesthetically pleasing cabinets.
Transform Your Customers' Kitchens with an Affordable Plumbing Supply Company in NJ
Delivering outstanding outcomes is crucial to maintaining your reputation as a competent plumber. By working with us to update your clients' kitchens, you can make use of Crosstown Plumbing's considerable industry knowledge, excellent product selection, and affordable pricing. From choosing the ideal cabinetry to suggesting complementary fixtures and appliances, our team is committed to helping you every step of the way.
Let our experience and top-tier services equip you to provide significant kitchen upgrades that distinguish you as a dependable specialist. To learn more about our extensive selection of kitchen cabinets and plumbing fixtures, visit our storefront or browse our website at: https://www.crosstownplumbing.com/