What to Consider When Choosing a New Toilet for your Bathroom Remodel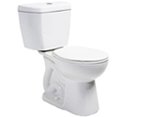 If you're doing a bathroom remodel, chances are that you're spending most of your time selecting the perfect tub, tiles and vanities – but it's important to spend some time considering your choice of toilet too. There is a surprising range of options out there, so here are some tips from our plumbing supply company.
The shape of the bowl: Elongated and round bowl shapes are the most common and, while elongated are the more comfortable and preferred shape, round bowls are great for smaller bathroom spaces.
Flush technology: Toilets may look like they haven't changed much since their invention, but the reality is different. Toilet models over 15 years old use an average of 3.4 gallons of water per flush, while new toilet models can use as little as 1.6 gallons. Make sure to select a model that not only saves money but also guarantees a good flush power to ensure that they can get the job done. There are also dual-flush toilets that offer additional savings by having a half and full volume flush option.
Tank or tankless: Tank toilets are traditional but tankless options are now fairly common on the market. With a connection directly into your water supply, they offer cost savings (by using less water per flush) without compromising on flush pressure.
Height: Standard height for a toilet seat is 14-15 inches from the floor. There are higher options that sit at 17-19 inches off the floor, known as "comfort height", which are well-suited to adults but may be too high off the floor for young children.
Cleanliness: Design is not just about looking good, it's about making a toilet easy to use and clean. Seamless designs are easiest to clean and there are even options that connect into the wall rather than the floor to make the job even easier. Two-piece toilets are still popular but can take a bit more effort to clean.
Toilets, Boilers, Water Heaters and More at Your Plumbing Wholesaler in New Jersey 
If you would like to repair or replace your home's boiler, furnace or hot water heater with state-of-the-art heating systems, the specialists at Crosstown Plumbing Supply can assist you. With over 25 years of experience serving the New Jersey area, we're the right plumbing supply company to help you choose the right replacement boiler, furnace or water heater or parts for your needs.
As plumbing supply wholesalers, we can supply you with a new toilet, boiler, furnace or water heater, as well as vanities and cabinets from all leading brands. Customers can also benefit from our 3.5% NJ sales tax, making your home improvement project event more affordable.
To find out more about our boiler products, heating systems and services, please contact us or visit our website at http://crosstownplumbing.com/ today.